---
2016 Blackberry Festival Events and winners! Congratulations to all our winners.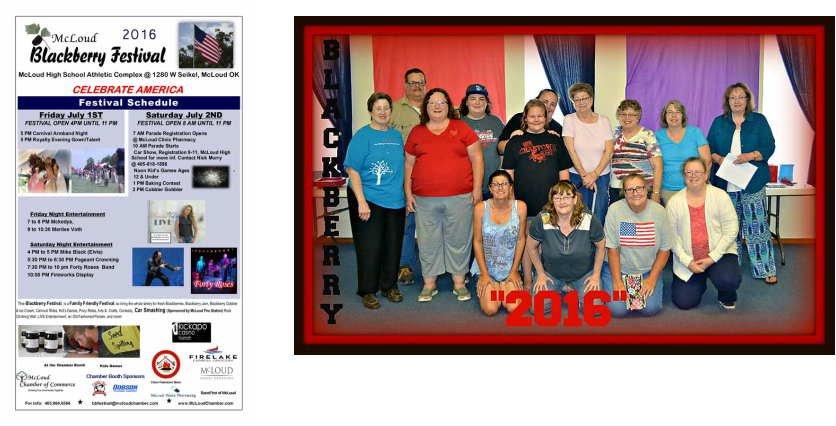 ​Sewing Circle takes 1st Place Float again this Year in Parade
2nd Place goes to The Love of Dog Groomers
3rd Place is the Cub Scouts Pack 477

2016 Cobbler Gobblers
1st Place age 8 to 12
Deyton Crawley
1st Place age 18 and up
Cassey Ramirez
2nd Place Donny Valpes
3rd Place Eric Ramirez
BBF Baking Contest
1st Place - Norma Martin with her Blackberry Dream Cakes/Vanilla Bean Buttercream Frosting
Recipe:
2nd Place Christen Rowland Blackberry Pie
2015 Parade Winners
Over All Winners!

1st Place- Sewing Circle

2nd Place- Kickapoo Casino

3rd Place- Mt. Olive Baptist Church





1st Place in the Auto Category

Pro wrecker Service, Norman Keeton 1957 Pontiac Star chief.






---

2nd Place in the Auto Category

Ron & Joyce Edmondson in their

1931 Model a Coupe.



---

1st Place in Tractor Category

Tatum Pritchard from the Shawnee tractor & Engine Club, riding a 1941 John Deer A



---

2nd Place in the Tractor category

Mark Nichols with his 1951 H Farmall brought here from Indiana. No picture available.



1st Place Horse Category

Jessica James on OL Grey Man

2nd Place is Kim Jernigan Misfits



---

1st Place Bikes

Floyd Walton on his Here Comes Ho Spyder

2nd place goes to OK Xtreme Jeepers Darlene Halford



---
2015 Blackberry Festival Recipe Contest Winners
1st Place
Shelly Holley with her Blackberry Whip
2nd Place
Rosemary Gaines with her Blackberry Cup Cakes
3rd Place
Chloe Lewis with her Awesome Lemon Blackberry Cake

Shelly Holley's Blackberry Whip Recipe
1 1/2 cups of Fresh blackberries, 1 1/4 cups of Sugar, 1/3 cup corn starch, 1/2 tsp. salt, 1 1/2 cups 100% Blackberry Juice, 3 egg yolks, 2 tbsp. Butter, 1 packet Knox original gelatin (unflavored), 1/2 tsp. vanilla extract, 1 1/2 cups finely chopped honey graham crackers, and 24 oz. whip cream.
Mix blackberry juice, salt, corn starch and sugar in a medium size sauce pan. When mixture is close to boiling temper egg yolks with mixture before adding to mixture, add butter, vanilla and 1 packet unflavored gelatin. Bring to boil, stirring constantly. Set aside to cool. After it cools add blackberries and 12 oz. whip cream. Mix together. Pour into a 9x13 class dish. Top with leftover whip cream spread evenly, sprinkle on graham cracker crumbs. Chill before serving, can be frozen.


Cobbler Gobbler Eating Contest 2015
Cobbler Gobbler Winners 2014
Saturday, July 5th Age Group
8 to 11
1st Place: Amiela Southern, 2nd Place: Lilly Downing and 3rd Place: Tie
Talvin Southern and Hope Swygert.
---
Age Group 12-17
1st Place: Sam Alsaffau, 2nd Place: Lesi Beck, 3rd Place Louis Farley
---
Age Group: 18 & Up
1st Place: Brian Butts, 2nd Place: Juliana Gustra,
3rd Place Tonya Farley
Blackberry Recipe Contest
Recipes will be added under the Event Section
Blackberry Recipe Contest
1st Place is Rodney Martin.
The name of his recipe is
Dutch Oven Blackberry Cobbler
2nd Place is Jessica Norman
her recipe is Wild Blackberry
Pie Bars.
3rd. Norma Martin with her
recipe Easy Blackberry Jelly Roll
---