---
Welcome!

(click the image for information about our new mural downtown!)
We are delighted that you have taken the time to visit us. Here you will find a wealth of useful information about this great community that we live, work and play in. We believe our members are an integral part of the quality of life we enjoy here. You will find current information and links on our membership, our tourist events like the Blackberry Festival or Fall Fest, Chamber volunteer opportunities, along with info and links to a wide range of community partners. If we can assist you in any way we would love to hear from you by meeting you in person or our office contact information in the box just below. More detailed info is on the "Contact Us" tab. Again, Welcome to McLoud!




​You're invited to come help us grow our community together.
---
---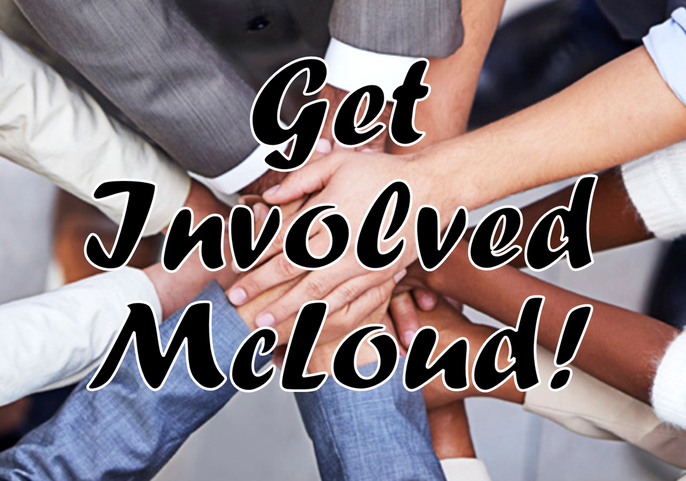 We need YOU in 2022
Benefits of volunteering for your business & community
When employees are encouraged to volunteer, they know their employer cares about them and their involvement in the community. Volunteering not only benefits the community, but also your business. Volunteering boosts employee morale, engagement, initiative, networking, and teamwork skills. Whether you are connecting with your own co-workers outside of the workplace or meeting new people, volunteering allows you to broaden your network and strengthen existing relationships in a new and unique way. Research shows volunteering is good for mental and physical health, and let's face it, who doesn't want happier employees! Happier and healthier employees are more likely to have increased productivity, creativity and longevity.

Volunteering with the Chamber gives you credibility with your business community and symbolizes the stability and interest your company has in McLoud. It demonstrates professionalism and your commitment to the community as a whole.

The McLoud Chamber of Commerce is like most other organizations and experiencing a crisis in volunteership. Our membership numbers are stronger than ever but the number of people actively involved is at a serious low. The more people working hard to help the Chamber with it's mission, the better impact we can make! While it may seem easier to simply send a check (although appreciated), it is volunteers who make a difference on the work that can be done.

The mission of the McLoud Chamber of Commerce is to promote a business friendly environment for the growth, expansion, and profitability of local business. We serve as a community leadership partner to bring all areas of the community together to network and communicate to make the McLoud area a better place to live and work. We work hard to increase the quality of life within our community borders in areas of a civic, social, and cultural nature that helps business attract and retain quality employees. The Chamber promotes the public persona of the McLoud community and sponsors activities to attract traffic to local business and investment into the community.

To be more involved with the McLoud Chamber of Commerce, come to our meetings at 215 S. 6th Street on the 4th Monday of every month and/or contact the Chamber office to volunteer for a committee!

It is volunteers who have something at stake that make every community what it is. We invite you to join us as we work together to see McLoud become the type of community we all want to live, work, and play in. Contact the Chamber office TODAY to volunteer!
---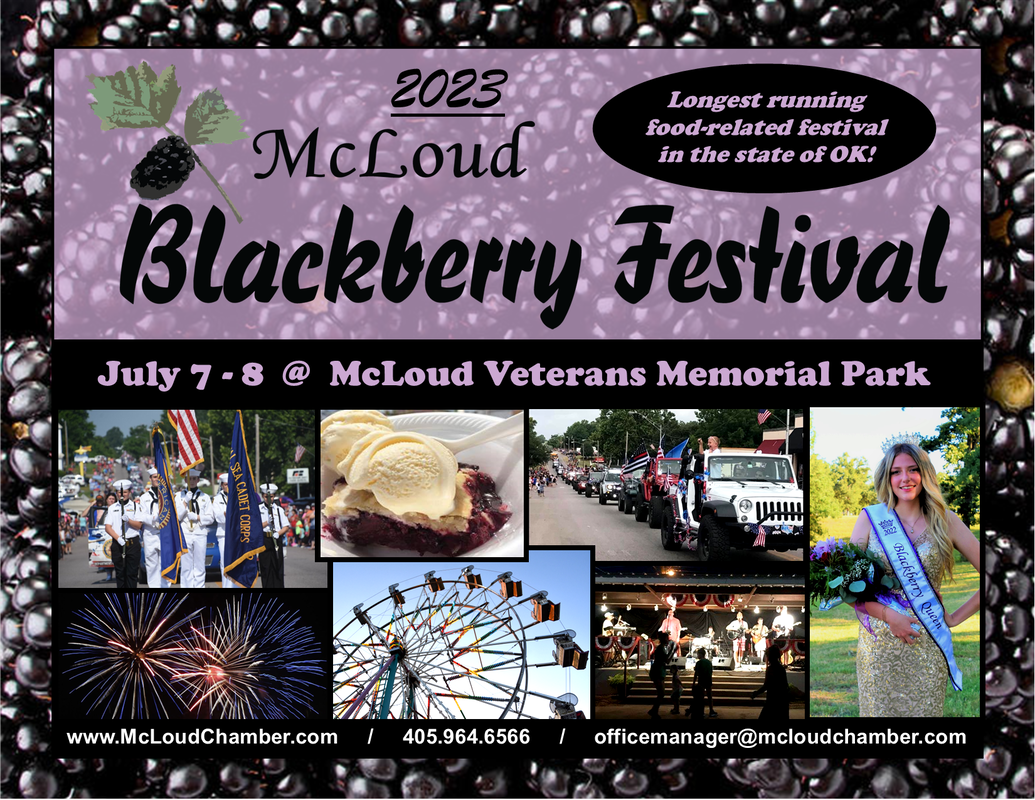 ---
A message from our new Chamber President:
Dear 2023 McLoud Chamber Members and Prospective Members,

As the new President of the McLoud Chamber, I am thrilled to work alongside our
dedicated Board. It is composed of members who share a love of our community and a
vision of business growth and development for McLoud and the surrounding area.
Our goal as a Chamber is to ensure that our members derive direct value from their
membership. I will use my leadership and communication skills to advocate for all
Chamber businesses and make it my mission to accelerate your ability to grow your
business. The McLoud Chamber strives to be a vehicle for engagement and a
springboard for success. I am excited to work with you and continuously look for new
ideas and opportunities for growth.
​
I encourage companies, business leaders, and individuals to engage with us to
experience the value that the Chamber has to offer to you and your business. Please
attend an event, follow our Facebook page, volunteer, or connect with our Chamber
staff. I encourage you to make the most of your membership. If you have not yet joined
the Chamber, but would like to be a part of the fun, it is not too late. Please email
Melanie Krause at OfficeManager@McLoudChamber.com.
I look forward to meeting you and working with you and your business to continue
growing McLoud and the surrounding area.

Sincerely,
Rhonda Hockenbury
McLoud Chamber President
---
---

2023 Board of Directors:
President: Rhonda Hockenbury
Vice President: Wanda Haynes
Treasurer: Christina Smiley
Secretary: Jacob Sestak
​Past President / 5th Member: Dean Hill
Executive Director: Melanie Krause

2023 Membership:
American Legion Post #144
Anchor Engineering
BancFirst-McLoud
City of McLoud
Country Boy Express
Deep Branch Winery
Dobson Fiber
El Nino's
First United Methodist Church-McLoud
Gateway to Prevention & Recovery
Gordon Cooper Technology Center
Heidi's New Image Hair & Tanning Salon
Hometown Firearms
Hudson Place
Kickapoo Casino
McLoud Café
McLoud Clinic Pharmacy
McLoud Dental Center
McLoud Family Dentistry
McLoud Friends of the Library
McLoud Friends of the Park Foundation
McLoud Hardware
McLoud Museum & Historical Society
McLoud Kiwanis
McLoud Masonic Lodge #126
McLoud Mercantile
McLoud Public Library / Pioneer Library System
McLoud Public Schools
McLoud School Foundation
Mike's Lawn Equipment
Mike Wilkey, CPA
OG+E
Sooner Home Team
State Farm Insurance-Brian Sandlin
Statewide Communications
United Way of Pottawatomie County
Individual Memberships:
Annette Brown
Austin Carroll
Kimberly Hanigar, M.D.
Wanda Haynes
Brenda Hill
Dean Hill
Kevin Krause
Melanie Krause
Glenda Kuhn
Daniel McClure
Monica Poindexter
​Jim Walker
Pat White
Roger White



---
---