---
The McLoud Chamber of Commerce
​Welcomes You
---
We are delighted that you have taken the time to visit us. Here you will find a wealth of useful information about this great community that we live, work and play in. We believe our members are an integral part of the quality of life we enjoy here. You will find current information and links on our membership, our tourist events like the Blackberry Festival or Chili Cook Off, available buildings and properties for commercial development, Chamber volunteer opportunities, along with info and links to a wide range of community partners. If we can assist you in any way we would love to hear from you by meeting you in person or there is Quick Contact Information in the box just below. More detailed info is on the "Contact Us" tab. Again, Welcome to McLoud. You're invited to come help us grow our community together.

​
---
We are now accepting sponsors, vendors and contestants
for the 2017 McLoud Chili Cook-Off!
See the tab under "EVENTS" for more information!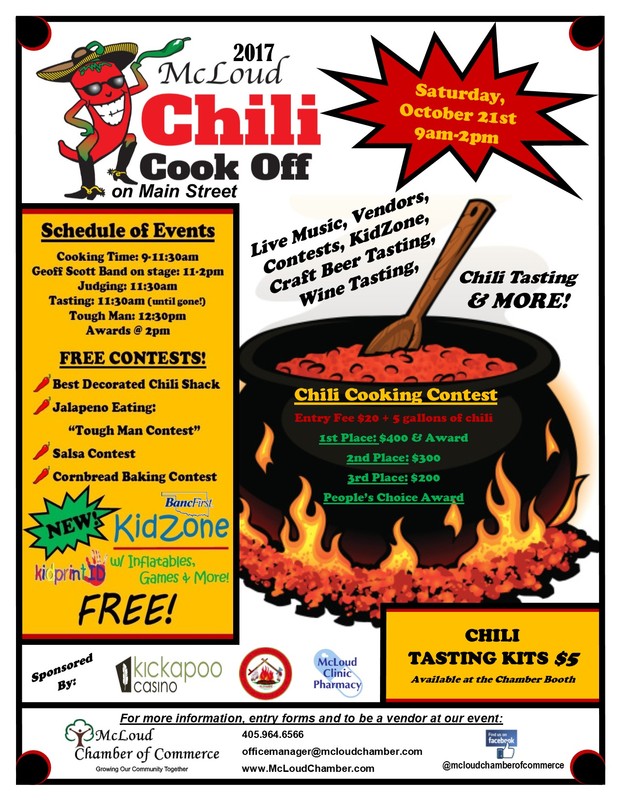 ---
The McLoud Chamber of Commerce joined forces with the
McLoud School Foundation and the McLoud Kiwanis to provide
2,000 ISO CE certified eclipse glasses to every student and staff member
​of the McLoud School District!
---
2017 Board of Directors
---
---