​​The McLoud Blackberry Festival began in the early 1940's as a celebration of the end of harvest season for the local cash farm crop, blackberries. Since harvest season was completed just before July 4th, when a community picnic had been held since the town was founded June 21, 1895, the two were combined to create the annual Blackberry festival. The town received national media coverage in 1949 when the Blackberry Growers Association and the McLoud Chamber of Commerce sent a crate of berries via overnight air freight to President Harry Truman. He said they were the best he had ever tasted and then declared McLoud to be the "Blackberry Capital of the World". The association disbanded in 1963 due to a poor market and farmers moved on to a more lucrative crop. ​While blackberry farming may no longer be the agricultural strength of McLoud, the festival still celebrates this history by continuing to hold this exciting event for the city and draws thousands of attendees from across the nation. The McLoud Blackberry Festival is the longest running food-related festival in the state of Oklahoma!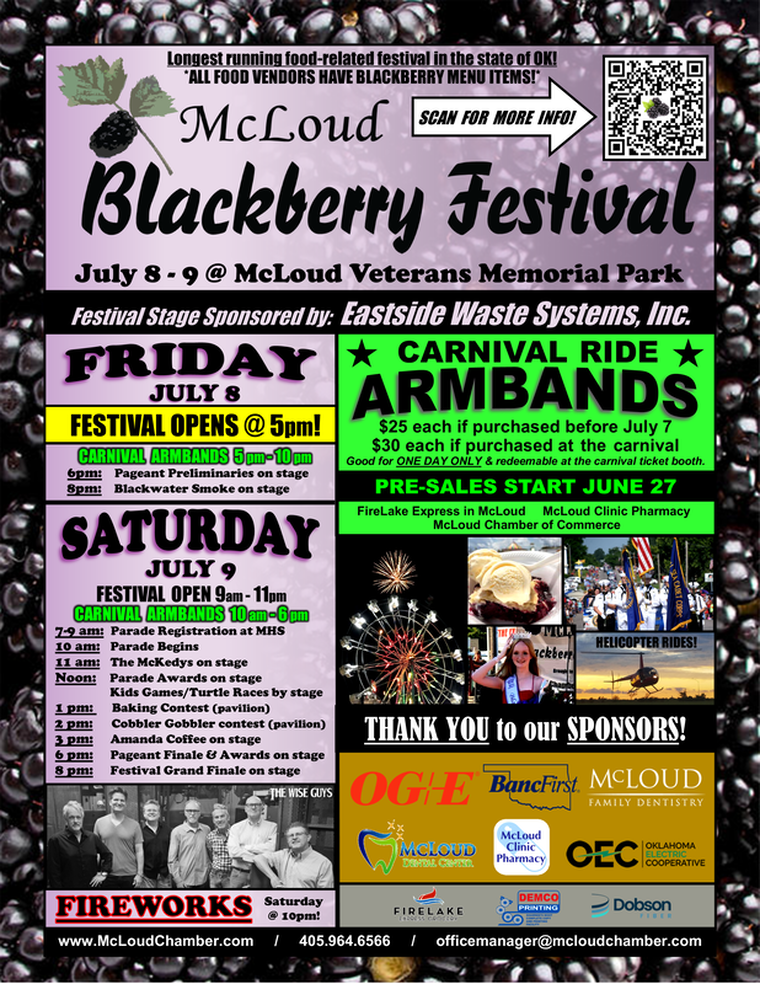 Here are some of the blackberry foods and products
​you can enjoy at our festival:
Fresh Blackberries (available at the pavilion until we run out!)
Blackberry Jam: Seedless, With Seeds and No Sugar Added Seedless (available at the pavilion until we run out!)
Official 2022 Blackberry Festival T-shirts (available at the pavilion until we run out!)
Blackberry Cobbler (Barbells and BBQ)
Blackberry Drizzle State Fair Cinnamon Rolls (Silver Star Concessions)
Blackberry Soda (RoadSide Concessions)
Blackberry Cotton Candy (Fluff Floss Laboratory)
Blackberry Specialty Fruit Drink (Texas Twister OKC)
Blackberry Kettle Corn (Sooner Kettle Corn)
Blackberry Topped Funnel Cake (B&G Concessions)
Blackberry Snow Cone (Hawaiian Snow)
Blackberry Ice Cream Sundae (Kendall Concessions)
Blackberry Newburg (Kendall Concessions)
Blackberry Lemonade (B/Max Concessions)
Blackberry & Lemon Infused Water (It's Not Just Cake)
Blackberry Pound Cake (It's Not Just Cake)
Blackberry Wine "Wild Child" (Whispering Meadows Vineyard & Winery)
Blackberry Sangria "Wild Red Yonder" (Urban Wineworks)
Blackberry Wine "Blackberry Dream" (Wildhorse Canyon Farms)
Blackberry Wine "Blind Luck: Black Knight" (Deep Branch Winery)
Blackberry Margarita (El Nino's)
Blackberry Craft Beer by Anthem Brewing (El Nino's)
Blackberry Infused BBQ Sauce (Fast Traxx BBQ Sauce)
Freeze Dried Blackberries (Peaches and Creme' Candy Company)
Freeze Dried Blackberry Cheesecake (Peaches and Creme' Candy Company)
Blackberry Scented Goat's Milk Soap (Mishaps & Miracles)
Blackberry Scented Car Freshies (Farm Chic)
Blackberry Scented Bath Products: Shower Gel, Lip Balm, and more! (Farm Chic)


---
Click on the desired item below to download the file/image.
***This page is updated often as information becomes available***
--WE ARE NOW FULLY BOOKED FOR VENDORS OF ALL TYPES--
WE NEED VOLUNTEERS!

To volunteer for the 2022 Blackberry Festival booth, clean-up, set-up, take-down, etc., please contact the Chamber office at (405) 964-6566. Community Service hours documentation can be provided.

- Pageant Registration closed 5/12

- Jam is sold by pageant contestants and at BancFirst for a limited time before the festival

- Berries are only sold during the festival at the Chamber's booth under the pavilion (until we run out!)
---